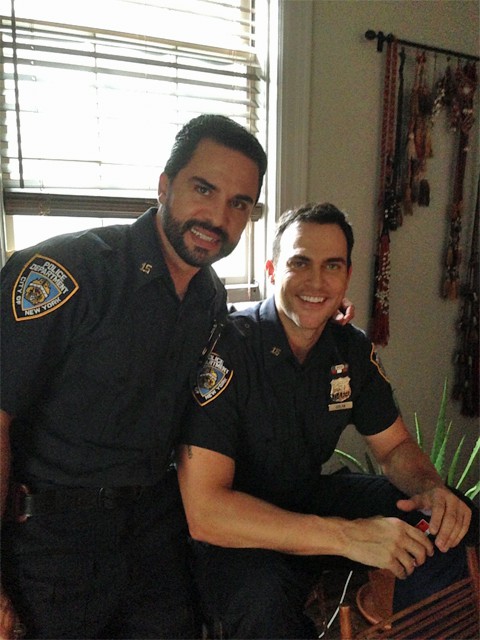 Love is Strange, director Ira Sachs's feature film follow-up to Keep the Lights On, is shooting in New York and stars Manny Perez and Cheyenne Jackson, who play a pair of 'New York's Finest', and a couple in the film.
Along with this exclusive behind-the-scenes photo, producers sent along a synopsis:
Academy Award-nominated John Lithgow will star alongside Alfred Molina in Ira Sachs' Love Is Strange, the NYC-set drama about a just-married gay couple whose honeymoon is complicated when circumstances force them to temporarily separate.
When George (Molina) loses his job, his partner of 38 years, painter Ben (Lithgow), moves in with his nephew and George with the gay cops next door. It's the next pic from Sachs after 2012′s award-winning Keep The Lights On and the first collaboration by longtime pals Lithgow and Molina. "We'll be playing the main roles in the best script I've read in years," said Lithgow in a statement, "a vivid portrait of marriage, with all its joy, folly, and occasional heartbreak."
No word on how Perez and Jackson react to their new houseguest, but perhaps you can find out by beating out the highest bidders for a non-speaking walk-on role in the film over at Charity Buzz!