For about a year we've been reporting on April DeBoer and Jayne Rose, a Michigan couple who are challenging the state's ban on gay adoption and same-sex marriage. In July, a judge ruled that the couple could proceed with their case.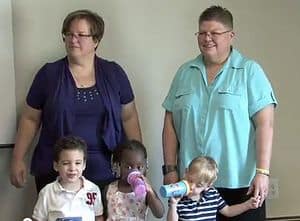 The Huffington Post points out a brief filed earlier this month by Attorney General Bill Schuette, who claims the state's definition of marriage is needed to "regulate sexual relationships" and their "unique procreative capacity":
Responsible procreation and childrearing are well-recognized as legitimate State interests served by marriage.
One of the paramount purposes of marriage in Michigan — and at least 37 other states that define marriage as a union between a man and a woman — is, and has always been, to regulate sexual relationships between men and women so that the unique procreative capacity of such relationships benefits rather than harms society. The understanding of marriage as a union of man and woman, uniquely involving the rearing of children born of their union, is age-old, universal, and enduring. As illustrated by a plethora of research, social scientists have consistently recognized the essential connection between marriage and responsible procreation and childrearing.
The case goes to trial in Detroit this fall.
Equality Michigan managing director Emily Dievendorf balks at Schuette's claim: Marriage is about more than just procreation, as the Supreme Court said this June, 'marriage is a way for couples to define themselves by their commitment to each other.' Suggesting the benefit of marriage is limited to just producing children is more insulting and damaging to the institution of marriage than anything Schuette fears."