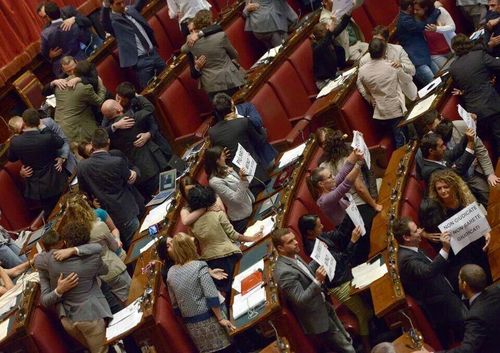 (image twitter serena saetti)
Dozens of Five Star Movement (M5S) politicians stood up in Italian parliament yesterday and began hugging and kissing during a debate over an anti-homophobia bill, The Local reports:
The bill was passed on Thursday by the lower house and aims to see a 1993 anti-discrimination law extended to crimes motivated by homophobia or transphobia. A total of 354 politicians voted in favour of the bill and 79 against, La Repubblica reported.
The parliamentary debate was interrupted when dozens of M5S politicians stood in unison and began kissing and hugging each other. Fellow politicians from Beppe Grillo's party held signs that called for "more rights" for gay people.
While the bill has now been passed by the lower house, Silvio Berlusconi's People of Freedom (PdL) party said it would fall in the Senate vote, La Repubblica reported.
Watch the amazing video, AFTER THE JUMP…