An anti-homophobia campaign sponsored by the UK's largest LGBT rights organization Stonewall is being given the cold shoulder from some of the UK's largest pro football clubs, the Guardian reports: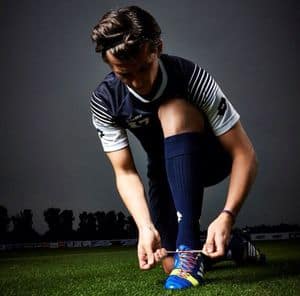 Certain clubs are unhappy with what they perceive to be a lack of consultation by the betting company Paddy Power and gay rights charity Stonewall around the initiative.
The Premier League champions, Manchester United, will not wear the laces. A statement read: "The club supports the League's central anti-discrimination efforts through Kick It Out. It is a positive move that Stonewall are now speaking to the League directly, rather than working with a commercial provider on a campaign without involving clubs or players at any stage."
Tottenham also made their feelings clear in a statement: "Whilst the campaign message is positive and one we support, there was unfortunately no prior consultation with ourselves, the Premier League or other clubs. Such consultation would have enabled us to avoid issues in respect of associated third-party commercial entities.
"We have contacted Stonewall directly and let them know that we are supportive and keen to discuss ways in which we can work together going forward. We are committed to working with organisations such as Stonewall and other agencies to eradicate homophobia in football and society."
The campaign is planned for September 21 and 22.