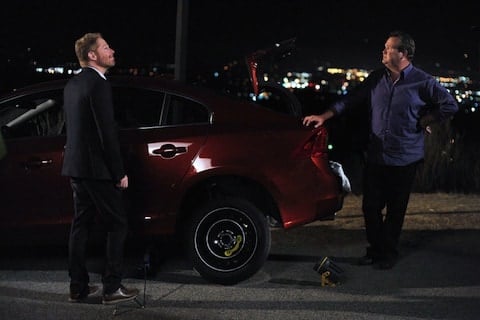 [SPOILERS]
On last night's season premiere of Modern Family, Mitch and Cam (arguably the most prominent gay couple on television today) celebrated the end of Prop. 8 by getting engaged. After lots of speculation (as well as some pressure from the ACLU), the Emmy-winning comedy had both characters drop to one knee simultaneously for a dual proposal. As the show enters its fifth season (as well as its first in syndication), Mitch and Cam continue to (sometimes slowly) broaden audiences' exposure to gay relationships on TV.
Watch the scene and see Eric Stonestreet discuss the possibility of a Mitch and Cam wedding on a recent appearance on The Ellen Show, AFTER THE JUMP…
Jeffrey Richman, one of the show's openly gay writers, tells THR how it went down:
As I started writing, I became unexpectedly emotional. I teared up writing it. I teared up hearing it read. And I completely teared up seeing that moment where they both just say "yes" at the exact same time. That was so moving for me. I felt like, "OK, maybe I got it right because I never cry at weddings." My boyfriend [actor John Benjamin Hickey] always reads the first draft and he called me in tears after he read this one.