NBA Commissioner David Stern said a lot on Wednesday even though he said he wasn't going to get into a discussion about the Sochi Games and Russia's anti-gay laws, swiftly and briefly denouncing the new President of the IOC and the organization for not stepping up against human rights abuses.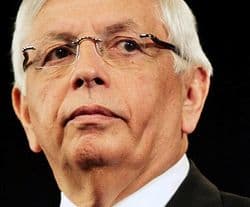 Stern spoke at a panel at the Beyond Sport Summit:
"I'm gonna behave myself, for the record here, which is unlike me," NBA commissioner David Stern said Wednesday, speaking as part of a panel that included Ed Rendell and was moderated by ESPN anchor and Philly native Kevin Negandhi. "But you know, the first phone call to the new head of the Olympics [was] from President [Vladimir] Putin, and everyone wants to talk about the Russian law on homosexuality. Think about the opportunities that sports have to make a continuing statement, and the only thing that we're saying in that context is 'Shhhh! No one say anything!'"
The phone call Stern spoke about took place on Tuesday, from Putin to the newly-anointed IOC President Thomas Bach, who appears to be toeing former IOC President Jacques Rogge's line when it comes to dealing with the issue, Philip Hersh reports:
"We did not discuss the law," Bach said, laughing, after his brief conversation with Putin.
But how the IOC deals with all the issues related to "the law," Russia's recent anti-gay legislation, is a serious challenge Bach immediately faces after becoming the eighth white European man in the IOC presidency…
…Bach, a 59-year-old attorney and 1976 Olympic fencing champion, said this was not the time to discuss the details of how the IOC will handle such incidents, but he clearly sees the need to let athletes and their national Olympic committees know in advance what to expect.
"We will follow our values and the Olympic Charter to make sure the Olympic Games and the participants in the Olympic Games can compete and participate without discrimination," Bach said. "We have the clear assurances of the highest authorities in Russia, and we trust those assurances.
"The policy of the IOC in more detail will be worked out and communicated with the national Olympic Committee and the athletes."