President Obama plans to meet with several Russian LGBT groups later this week when he visits St. Petersburg to attend the G20 Summit, Buzzfeed reports: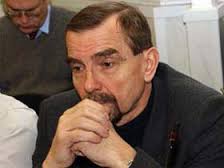 Four Russian non-governmental organizations told BuzzFeed Monday they had been invited to the meeting, scheduled for this Thursday at St. Petersburg's Crowne Plaza Hotel. The groups include veteran human rights activists Lev Ponomarev (pictured) and Lyudmila Alexeyeva, legal aid NGO director Pavel Chikov, and Coming Out, a St. Petersburg-based LGBT organization. Another local LGBT group, the LGBT Network, is believed to be attending, though director Igor Kochetkov declined to comment to BuzzFeed, saying that he had been "asked not to say anything."
Election monitoring group Golos is also believed to have been invited, though BuzzFeed could not reach its director or deputy director to confirm. Russia's justice ministry forced Golos, which used to receive funding from USAID, to disband this summer under a law on "foreign agents" that many believed was created specifically to target the group.
Earlier last month, of course, Obama canceled a G20 meeting with Russian President Vladimir Putin, a decision that was at least partly based on Russia's human rights abuses.