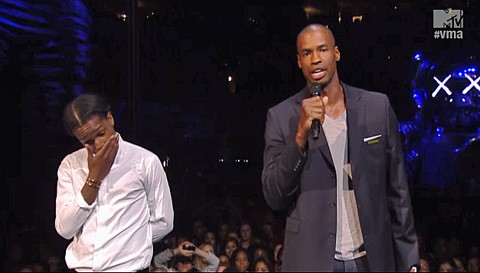 In an interview with The Stashed, A$AP Rocky apologized for the awkward introduction he gave of Macklemore's "Same Love" at the MTV VMAs when he took the stage with gay NBA player Jason Collins.
"I'm mad that my facial expressions was like that because I'm not homophobic at all, and that whole thing just came off real homophobic. I didn't really notice it until I got home and saw it. I apologize to Jason for that, because people was laughing and s**t, and you know… I really don't think that's funny. I saw they were making all the memes and pictures and making fun of him. There's people out there that think I was doing that to be funny, and truthfully I got gay people in my family. I don't give a f**k if you gay or you not, I just found it odd that MTV wanted to stand me next to this ni**a when they are talking about gay people, that's all. You know what I'm saying?"
Watch the moment, AFTER THE JUMP…
Rocky has spoken out in support of gay equality, telling Interview magazine in March:
"It makes me upset that this topic even matters when it comes to hip-hop, because it makes it seem like everybody in hip-hop is small-minded or stupid—and that's not the case. We've got people like Jay-Z. We've got people like Kanye. We've got people like me. We're all prime examples of people who don't think like that. I treat everybody equal, and so I want to be sure that my listeners and my followers do the same if they're gonna represent me."