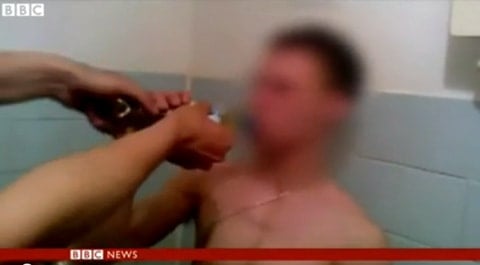 The BBC and the Guardian are both taking a closer look at the rise in homophobic violence in Russia. BBC News has a new report up on the brutal videos by Russian vigilante groups in which allegedly gay men are shown being persecuted.
"Many gay people have changed how they dress, they've removed earrings, changed their hairstyles, to avoid having problems. Even back in the USSR, where homosexuality was a criminal offence, gays were treated better than they are now in Russia. Ordinary people see us as criminals. They hate us."
Watch the BBC's report, AFTER THE JUMP…
And The Guardian has a new report on how Russia's anti-gay legislation has emboldened these anti-gay groups:
Activists say the legislation has emboldened rightwing groups who use social media to "ambush" gay people, luring them to meetings and then humiliating them on camera – sometimes pouring urine on them. These groups often act against gay teenagers, several of whom told the Guardian that rising homophobia and vigilante activity force them to lead lives of secrecy.
The Russian LGBT Network said the harassment of gay people was being organised nationally for the first time through groups known as Occupy Gerontophilia and Occupy Paedophilia, who claim to be trying to "reform" homosexuals.
Igor Kochetkov, the head of the network, said Occupy Paedophilia – which focuses on gay adults – had uploaded hundreds of videos and garnered hundreds of thousands views on social media sites. Occupy Gerontophilia, which focuses on teenagers, had uploaded dozens of videos to the social network VKontakte before its page, which had 170,000 subscribers, was shut down for invading the privacy of minors.
"The latest laws against so-called gay propaganda, first in the regions and then on the federal level, have essentially legalised violence against LGBT people, because these groups of hooligans justify their actions with these laws," Kochetkov said. "With this legislation, the government said that, yes, gays and lesbians are not valued as a social group.
"It is an action to terrorise the entire LGBT community," he added.
President Obama will be meeting with LGBT rights groups when he travels to St. Petersburg, Russia later this week during his trip to the G20 summit.