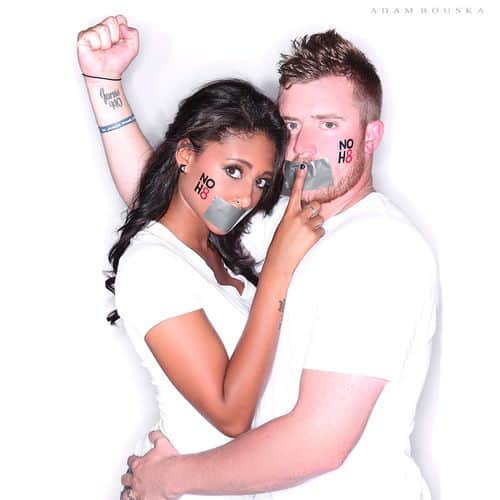 In addition to showcasing their LGBT solidarity, Texas Rangers pitcher Robbie Ross and his wife Brittany are also prominently displaying their Christian faith in a new photo for the long-running NoH8 campaign. During the shoot, the couple spoke with Outsports' Cyd Ziegler about their vocal support for LGBT rights coming not in spite of their Christian faith, but because of it:
 "Being in sports, and being around all kinds of different people, you just want to accept everyone for who they are," Robbie told Outsports at the NoH8 campaign's Burbank, Calif., studio. "My wife Brittany and I are Christians, and we believe we as Christians should love everyone and show everyone love, and if this is the best way to do it, then we want to support them."
In organizing the shoot, Brittany said she has been motivated by seeing the way the Bible and religion are used to persecute LGBT people.
"It genuinely breaks my heart," Brittany said. "We're all human, and we can all take things from the Bible and twist them however we want. You can basically take a verse from the Bible and say it's OK to beat your wife, but the world says that's not OK, so that's what we go with. And I think the world is saying that gay people in the community are OK. Jesus came to love people. He never persecuted anybody. There are a lot of confusing things in the Bible, and I think if anything is confusing and it promotes hate, then you're taking it the wrong way.
"Being gay shouldn't just be tolerated, it should be celebrated that people can embody who they truly are," Brittany added. "I think that's the main thing."
You can check out the full article HERE.