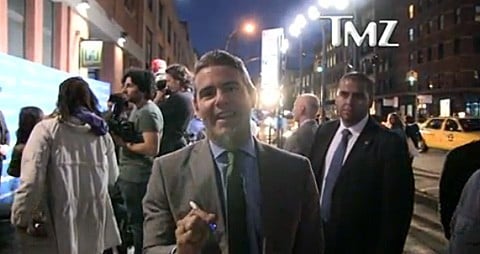 A paparazzo from TMZ goaded Bravo's Andy Cohen outside Highline Stages in NYC last night about a gossip site's claims he's engaged to NHL star and LGBT ally Sean Avery.
Replied Cohen:
"Dude, Sean Avery is straight. Do you understand that? So a gay guy and a straight guy should be able to be friends without you asking me if we're engaged, right? Very, very straight. Listen, I'd be happy if Sean and I were bangin … but it's not [happening]."
Watch, AFTER THE JUMP…
The questioning has arisen following the publication of a pictorial narrative pieced together by gossip site The Fame Driven in early September, which posited that close friends Cohen and Avery were secretly engaged.
In related news, Cohen appears with another famous friend to whom he's not engaged, Sarah Jessica Parker, on the forthcoming premiere issue of the new quarterly glossy FourTwoNine, which hits newsstands on October 1st.
The new publication is edited by Kevin Sessums, a good friend of ours here at Towleroad and our former theatre critic.
The launch issue will feature articles by Salman Rushdie, Michael Cunningham, Amy Fine Collins, Carrie Rickey, Brendan Lemon, Steven Thrasher, Henry Alford, Mark Jacobs and Helen Eisenbach, along with three new poems by Mark Doty. Other contributors are photographers Ruven Afanador, Christian Witkin, Torkil Gudnason, and Stewart Shining as well as illustrator Robert Risko. Also appearing in the issue are artist David Hockney and artist and model Casey Legler.
We wish Sessums, who moved out to San Francisco to helm the magazine, the best of luck with it.