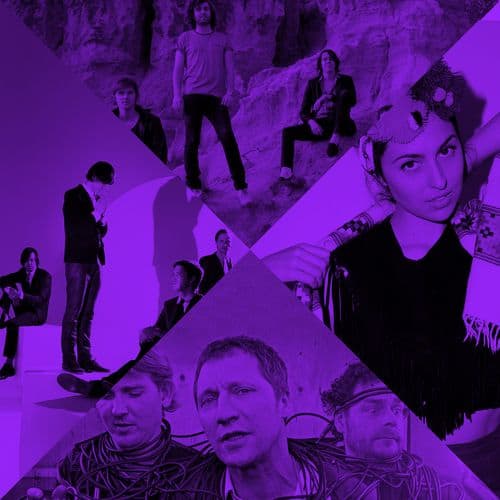 BY OCCUPY THE DISCO / JOSH APPELBAUM
The OXD Mirror is a weekly music column brought to you by the boys of OCCUPY THE DISCO (OXD), a New York City based movement created by three music lovers, Ru Bhatt, Josh Appelbaum, and Tadeu Magalhães, who want to share their love for disco, house and dance music with the world.
Anna Lunoe: 'Breathe'
We've been fans of Anna Lunoe since last summer's 'Real Talk,' which instantly became a dancefloor staple.  The song dominated Beatport's Indie Dance charts and stayed #1 for an unprecedented three-month stint.  Lunoe seemingly came out of nowhere but had spent years down in her native Australia cutting her teeth as a DJ for clubs all across the country as well as for fashion events for many of the major labels like Chanel, Fendi and Prada.  Lunoe's club-sensible production along with her tender vocals landed her a new record deal with Ultra Records, perhaps one of the largest all-electronic labels in the business.  Her newest single, 'Breathe', has all of the makings of another hit with a sound distinctly inspired by early 90's club culture.  I can't wait to hear this one when I'm out!
Kraak & Smaak: 'Good For The City (feat. Sam Duckworth) (Moullinex Remix)'
Earlier this year I shared Kraak & Smaak's fantastic collaboration with Ben Westbeech, 'The Future Is Yours', and now the Dutch based trio is back with a funky track called 'Good For The City'. The song will act as the second single from their upcoming album, Chrome Waves.  Portuguese producer and all-around musical genius Moullinex enhances the disco and funk vibes from the original track in his remix and brings them to the next level.
Cut Copy: 'Free Your Mind'
Cut Copy embarked on a cryptic teaser campaign this past week, with giant billboards around some major cities that only said "Free Your Mind' that played this new track on enabled smartphones within close priximity to the billboard ad itself.  'Free Your Mind' is the title track and first single of their upcoming LP. It picks up right where Zonoscope left off, while adding in some new elements like classic house pianos and soulful background vocals.  This band never seems to disappoint and I'm anxiously awaiting the release of Free Your Mind on November 5th.
 MORE NEW MUSIC, AFTER THE JUMP…
Todd Edwards: 'Hold The Faith (Le Nonsense Edit)'
Todd Edwards has been producing and remixing since the early 90s, and is known for using vocal reconstruction on tracks in place of instrumentals, a technique inspired by fellow producers MK and Todd Terry.  Edwards is a Christian and has always injected various religious message into his compositions, usually lyrically, though in this case the song title is pretty straightforward.  French funk and nu-disco producer Le Nonsense wasn't even born when Edwards started producing in 1992, but has provided a wonderful remix for this song that is available as a free download.  The 18 year old producer has been creating  some sophisticated reworks as a hobby for a few years now, and his slick mature sound lines up nicely on this track from a veteran.
Miami Horror: 'Real Slow (ft. Sarah Chernoff)'
Miami Horror is back after 2011's fantastic debut album, Illumination.  The four piece band originally hail from Melbourne but have recently relocated to Los Angeles, and their new locale's influence can be heard in their latest track, 'Real Slow'.  A new album is expected in spring of 2014, so until then hopefully this and perhaps another single will tide us over.
Decibels: 'Regulator/Moderator (Mighty Mouse Remix)'
Midlands, UK-based band Decibels describes their sound as "a blissful mix of lo-fi, ambient, electro and Indie."  'Regular/Moderator' is a single that came out late last year and is just now seeing a remix EP, featuring edits by the likes of Bufi, Tronik Youth, and of course friend to OXD Mighty Mouse, who contributes his famous upbeat disco sound.
If you are in the New York area this Sunday, OXD will be spinning at the brand-new Atlas Social Club for our new semi-regular event, Atlas Disco Club, on Sunday from 9-1.  Much like our weekly column here on Towleroad, we will showcase the best in new disco and house music.  Learn more about it here.
We are on Spotify!  Subscribe to our 'As Featured on Towleroad' Playlist to listen to tracks posted from past weeks.  For more information on OXD, check out our website and accompanying blog at www.occupythedisco.com, like us on Facebook, or follow us on Twitter: @OccupyTheDisco