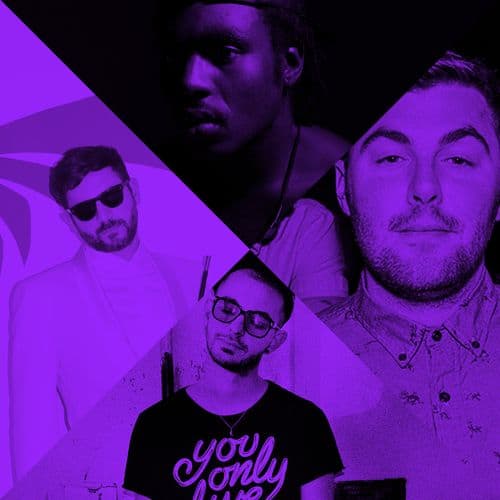 BY OCCUPY THE DISCO / RU BHATT
The OXD Mirror is a weekly music column brought to you by the boys of OCCUPY THE DISCO (OXD), a New York City based collective created by three music lovers, Ru Bhatt, Josh Appelbaum, and Tadeu Magalhães, who want to share their love for disco, house and dance music with the world.   
Blood Orange – 'Chamakay'
After successfully producing hits for Sky Ferreira, MKS, and most notably Solange, Britain's Devonté "Dev" Hynes, a.k.a. Blood Orange, continues with his softer ethereal streak on the lead single from his upcoming record, Cupid Deluxe. Joined by Caroline Polachek of Chairlift, the duo's featherlight vocals occupy the chasm between the light percussive rhythm and a rich bassline. The resulting song is almost weightless, providing a a clear break in direction from the funky grooves on his previous record, Coastal Grooves.
HNNY – 'Mys'  
After catching my ear with his Leona Lewis-inspired track, 'For The Very First Time,' Stockholm's Johan Cederberg, a.k.a. HNNY, impresses me once again with another flavor on 'Mys.' The soothing house track starts with a soulful acapella sample that's complemented with a pumping bassline, creating an incredibly warm and gorgeous track. If you're looking for something with a little more pump, check out the fantastic remix by Amsterdam's Young Marco.
Goldroom – 'Embrace' 
Following up to his early 2013 dreamy single, 'Only You Can Show Me,'  L.A.'s Josh Legg, a.k.a. Goldroom, is back with 'Embrace, ' another sun-washed house track that's appropriate for these last days of summer. Legg enlists Australian folk-pop singer Ariela Jacobs on the track and creates a warm and soothing backdrop that showcases her delicate, vulnerable vocals.
CONTINUED, AFTER THE JUMP… 
Surahn – 'Wonderful (Aeroplane Remix)'
Über producer Aeroplane lends his signature cosmic grooves to Surahn's latest to create an expectedly funky daytime disco ditty that is the perfectly marriage between the talents of the Belgium's Vito Deluca and Australia's Surahn Sidhu (better known as Sidwho?).
The Magician – 'When The Night is Over' 
'When The Night is Over' is The Magician's first single on Parlophone records, the German/British record label that's home to names like Kylie Minogue, Goldfrapp, Pet Shop Boys, and most notably, The Beatles. With peers like that, the expectations are incredibly high, and thankfully this track does not disappoint. A bouncing French house dance beat is smoothly layered under '90s R&B styled vocals by the The Newtimers, creating an irresistible and inescapable dancefloor affair.
Katy B – '5AM' 
Katy B's lead single from her forthcoming EP, '5AM' is a '90s inspired house track that's sure to keep dance floors thumping. With lyrics like "the beat's so sick / that tune's so ill," the song sends you into a feverish frenzy that can only cooled with "some lovin' like Valium."
OCCUPY THE DISCO (OXD) curates and recommends music events to the gay community in NYC—in an effort to move the focus of the nightlife scene beyond the promoter and venue and to the music itself. OXD's goal is to educate, entertain, engage and empower the gay audience to reclaim their ability to question and experience the unknown. The OXD Mirror will serve to showcase tunes that are definitely off-the-beaten-path but rightfully deserve the attention of the gay ear.
This week's post was written and curated by Ru Bhatt. Check out more of his music picks on his podcast, The Ru-Mix and on Made In Brazil.

Be sure to check out these tracks and more on our Spotify Playlist. For more information on OXD, check out our website and accompanying blog at www.occupythedisco.com, like us on Facebook, or follow us on Twitter: @OccupyTheDisco.