Veteran TV journalist David Frost, who interviewed Nixon following his resignation, has died at 74, the NYT reports: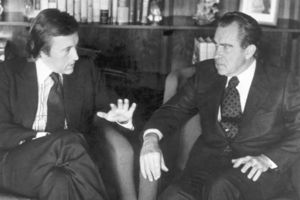 His death, which was announced in a statement by the Frost family to the BBC, was confirmed by a spokesman for Al Jazeera English, where Mr. Frost hosted an interview program. The statement said Mr. Frost died, possibly of a heart attack, while aboard the Queen Elizabeth cruise ship, where he was scheduled to give a speech.
Mr. Frost was 74, and according to Richard Brock, his executive producer at Al Jazeera English, had just moved to a home close to Oxford. He also had a home in London.
In a statement published by the BBC, Mr. Frost's family said that a private funeral would be followed by a memorial service. Details about the memorial will be announced "in due course," the statement said.
Frost's interview with Nixon, AFTER THE JUMP…