President Vladimir Putin lied about his country's laws on Thursday, the AP reports: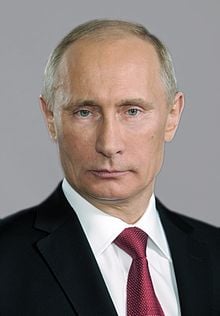 Putin on Thursday insisted the law bans only "propaganda of nontraditional sexual relations among minors." He argues that it is "no infringement on the rights of sexual minorities."
The law has prompted calls for boycotts of the 2014 Winter Olympics hosted by Russia in Sochi.
Putin says while some European nations have allowed gay marriages, "the Europeans are dying out … and gay marriages don't produce children."
He added that heterosexual couples should have more children to reverse a population decline, saying "let us make our own choice, as we see it for our country."
And as a refresher, here's a summary of the law and its punishments via PolicyMic:
Here is what Article 6.21 actually says:
Propaganda is the act of distributing information among minors that 1) is aimed at the creating nontraditional sexual attitudes, 2) makes nontraditional sexual relations attractive, 3) equates the social value of traditional and nontraditional sexual relations, or 4) creates an interest in nontraditional sexual relations.
If you're Russian. Individuals engaging in such propaganda can be fined 4,000 to 5,000 rubles (120-150 USD), public officials are subject to fines of 40,000 to 50,000 rubles (1,200-1,500 USD), and registered organizations can be either fined (800,000-1,000,000 rubles or 24,000-30,000 USD) or sanctioned to stop operations for 90 days. If you engage in the said propaganda in the media or on the internet, the sliding scale of fines shifts: for individuals, 50,000 to 100,000 rubles; for public officials, 100,000 to 200,000 rubles, and for organizations, from one million rubles or a 90-day suspension.
If you're an alien. Foreign citizens or stateless persons engaging in propaganda are subject to a fine of 4,000 to 5,000 rubles, or they can be deported from the Russian Federation and/or serve 15 days in jail. If a foreigner uses the media or the internet to engage in propaganda, the fines increase to 50,000-100,000 rubles or a 15-day detention with subsequent deportation from Russia.