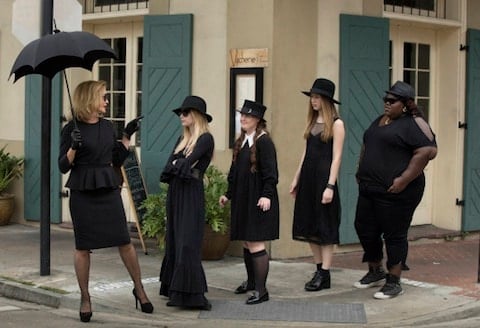 I'll be the first to admit I've watched many episodes of American Horror Story while peeking through interlaced fingers covering my eyes. I'm squeamish at best and a coward at worst, but (mutilated prisoners aside) the premiere episode of American Horror Story: Coven was so over-the-top fabulous, I just couldn't look away.
From Jessica Lange's stiletto heels to the gorgeous setting of Mrs. Robichaux's Academy For Exceptional Young Ladies (AHS just loves a grandiose staircase), there's an attention to detail here that hopefully will continue to reflect a more tightly-controlled chaos than previous seasons. We've already outlined Coven's basic premise, but its first hour, titled "Bitchcraft," formally established (and said goodbye) to a slew of new characters.
See what happened in our recap, AFTER THE JUMP … [SPOILERS AHEAD]
We begin with young Zoe (Taissa Farmiga) getting ready to get down for the first time with her boyfriend. He tries to warn her about how it might hurt a little to lose her virginity, but what he fails to mention is how he would die of a bloody seizure mid-coitus. Zoe learns that she's a witch and is shipped off to Mrs. Robichaux's, accompanied by Myrtle Snow (Frances Conroy, decked out as an only-slightly more realistic Effie Trinket).
The headmistress, Cordelia (Sarah Paulson), explains that the purpose of her school is to help students control their gifts. Each witch has one power, while each generation has a Supreme who can access multiple abilities. Upon arrival, Zoe meets clairvoyant Nan (Jamie Brewer), human voodoo doll Queenie (Gabourey Sidibe) and former actress/telekinetic Madison (Emma Roberts). The four girls are apparently the only current students, as the witch population had dwindled in recent years. In fact, just recently, a young witch (Lily Rabe) was burned at the stake not too far from the Academy for having the ability to bring the dead back to life.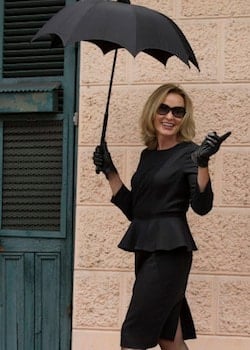 Of course, Cordelia's mother Fiona (Lange) argues the best defense is a good offense, warning the girls "When witches don't fight, they burn." She's the Supreme, of course, but it seems the only power she doesn't have is eternal life. And that's the one she wants the most. She's recently returned from Los Angeles after bankrolling some experimentation on a life serum of some sort. When the lead scientist isn't providing the results, she sucks the life force from him, Winifred Sanderson-style. Having mommie dearest around doesn't please Cordelia at all, but it's a tough case to make to the council that her girls wouldn't benefit from being taught by the Supreme herself.
Madison, meanwhile, gets wind of a frat party and drags Zoe along. While Zoe gets talking to nice guy Kyle (Evan Peters), Madison is slipped a roofie and gang raped by Kyle's fraternity brothers. Kyle finds them and breaks it up. After he chases them all back to their bus, an eerily-calm Madison uses her telekinesis to flip the bus, killing innocent Kyle and all but two of his frat bros. One of the surviving brothers, the one who instigated the attack of Madison, is lying comatose in a hospital when Zoe learns Kyle didn't survive. She's so upset that she mounts his unconscious body and, well, you know the rest.
As their new teacher, Fiona's first order of business is to take the girls on a field trip. While they're out, Nan is drawn to a ghost tour of the house of Madame LaLaurie (Kathy Bates). Back in 1834, LaLaurie was mutilating slaves and using their blood to try and stay young. Unfortunately for her, she chose to mess with the wrong slave, when it turns out to be the lover of Voodoo Queen Marie Laveau (Angela Bassett). LaLaurie is poisoned by Laveau, and, according to the Robichaux girls' present-day tour guide, LaLaurie's body is never found. Then why is it Nan is claiming to hear the lady of the house out back?
At night, Fiona gets help digging up LaLaurie's courtyard and, lo and behold, finds the infamous serial killer buried, but very much alive!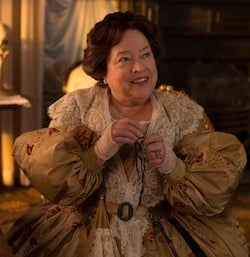 Let's debrief a bit here, shall we? First off, I find it highly unlikely that Horror Story regular players Peters and Rabe are gone for good. Especially when you consider Rabe's character Misty's ability to resurrect the dead. And while we're on the subject of waking the dead, how excited are you about LaLaurie crossing into present day? As I was reviewing some advance information about this season, it wasn't clear how our present day witches would be interacting with these historical figures from the past. It's good to know that the opportunity for Lange to go toe-to-toe with Bates won't be passed up. Let's just hope Bates' woman-out-of-time routine doesn't start to tread on Sleepy Hollow marveling at Starbucks territory, because that joke gets old real quick.
I never put too much faith in Ryan Murphy and company for deftly dealing with BIG ISSUES AND IDEAS, like feminism, racism or oppression (or Catholicism, school shootings, so on and so forth), but I do think he can tell one hell of a female-fronted story. If the premiere's performances from Lange and Bates (as well as promising characters Queenie, Madison and Marie Laveau) are any indication, this season will amount to a lot more than just a bunch of hocus pocus.
What did you think of the episode?
(American Horror Story: Coven airs Wednesdays at 10 p.m. Eastern on FX.)