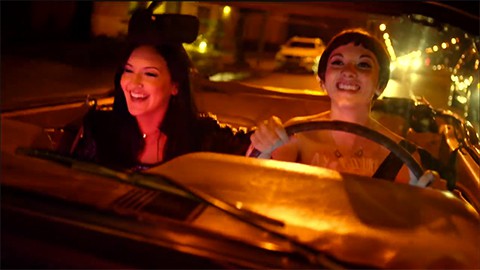 Last week we reported on Lance Bass's directorial debut in a new short film, "Tale of Two Dads," tied to AT&T's new campaign, "Love is Changing History," aimed at showing "how how lesbian, gay, bisexual, transgender and questioning (LGBTQ) love is changing history every day."
Actress and activist Pauley Perrette (NCIS) has also co-directed a short film in conjunction with the campaign called, "Jenny." Her film focuses on a young girl's anxiety about whether she will get asked to prom by her dream date, Alex.
Check out the film (along with Bass's in case you missed it) AFTER THE JUMP…
From now through November 11, AT&T will donate $1 to Trevor every time someone shares the campaign's website, and/or one of the two short films (Bass's or Perrette's) to Facebook and Twitter. They will also donate $1 if you submit your own story about a moment in your life that embodies how "Love is Changing History" on the project's website. AT&T will donate at least $25,000 and up to $100,000 to Trevor in support of their mission to provide crisis intervention and suicide prevention services to LGBTQ youth.
Follow the campaign and see others' stories on Facebook and Twitter by using the hashtag #ChangeHistory.
You can also check out the "Love is Changing History" website HERE.