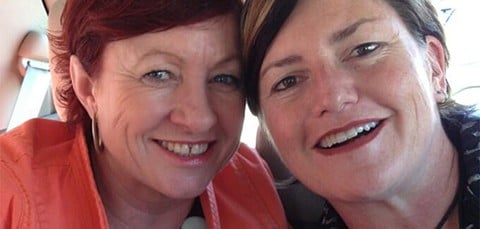 Christine Forster, the gay sister of newly elected Australian Prime Minister Tony Abbott, an opponent of same-sex marriage, has announced she is engaged to her partner, Virginia Edwards, according to New Idea:
"We got engaged when we were away with friends on a trip to Broken
Hill [located in the New South Wales outback]," Christine, 49, tells during a warm and revealing chat at the
couple's inner Sydney home.
With wedding plans afoot, the couple have all but settled on a venue and guest list.
"And
instead of bridesmaids, we're going to have drag queens," laughs
Virginia, 56. Christine adds: "It will be close friends and family. Tony
and Margie will definitely be there."
Abbott recently got into something a skirmish with singer Katy Perry over his views on same-sex marriage while on a live radio show.
Forster's announcement also comes shortly after the Australian Captial (ACT) Territory moved to legalize gay marriage. Abbott, who has previously belittled gay marriage, referring to it as "the fashion of the moment," has already taken action against the proposed legislation in the ACT, with his Conservative coalition announcing earlier this month that it would file a legal challenge to the measure.
(Photo via New Idea)