Islamic clerics across Bangladesh held small protests against Muhammad Yunus, a Nobel laureate and micro-loan pioneer, over remarks he made in 2012 in support of gay rights.
AFP reported: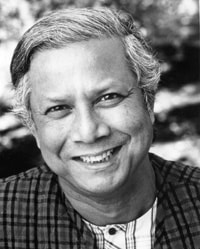 Maolana Moniruzzaman Rabbani, secretary of a committee that helps run the national mosque in Dhaka, said organisers would distribute 600 000 leaflets outlining Yunus's statement against violence and opposing discrimination against gay people.
The 73-year-old economist made the statement along with three other Nobel laureates in April 2012 following prosecutions of gay people in Uganda.
"We'll hold a massive rally against Yunus in the capital on October 31," said Rabbani, who is also secretary general of the Islamic Oikyajote political party, which claims to be allied with the government.
"We have asked all Muslims to be united against Yunus's move to destroy our family and society," he said. Homosexuality is outlawed in Bangladesh.
A spokesperson for Yunus declined to comment because of the sensitivity of the issue. He is currently not in Bangladesh.
The campaign is the latest aimed at discrediting and attacking Yunus in Bangladesh. He was sacked in 2011 from Grameen Bank, the micro-credit pioneer he founded, after he angered the current Prime Minister Sheikh Hasina by joining politics briefly.
The rallies were held today but only attracted small numbers of people, AFP followed up.
"Yunus has become an apostate for supporting homosexuality," said one imam, Maolana Mohammad Noman, who took part in a protest in the eastern town of Comilla.
Local police chief Mohiuddin Mahmud told AFP that scores of imams joined the rally in Comilla and demanded Yunus's execution