As we reported yesterday afternoon, today Lambda Legal filed a federal lawsuit in the US District Court for the Southern District of West Virginia on
behalf of three same-sex couples and the child of one of the couples seeking the freedom to marry.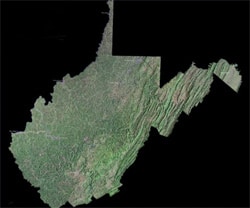 The case was filed on behalf of Casie McGee and Sarah Adkins and Justin Murdock and Will Glavaris, all of Huntington, and Nancy Michael and Jane Fenton and their son Drew, of St. Albans, according to a press release from Lambda Legal.
In the lawsuit, Lambda Legal, joined by pro bono co-counsel fromTinney
Law Firm and Jenner & Block, argues that West Virginia's marriage
ban unfairly discriminates against same-sex couples and their children
and sends a purposeful message that lesbians, gay men, and their
children are second-class citizens who are undeserving of the legal
sanction, respect, protections, and support that different-sex couples
and their families are able to enjoy through marriage.
Nancy Michael, 45, and Jane Fenton, 43, have been together for 16 years
and their son, Drew, is 6. Of the other plaintiffs, Casie McGee, 30,
and Sarah Adkins 32, have been together for more than three years, and
Justin Murdock, 32, and William Glavaris, 31, have been together for
more than two years.
Said Michael, a lifelong West Virginian: "West Virginia is home for us. Our family is here, our jobs are here, and our community here is a great support for us. Jane and I have been together for 16 years. We live and work together, and we are raising our son, Drew, together. We have done everything we can to protect and take responsibility for our family but we worry all the time that it isn't enough. We need the protection that marriage affords."
You can read the complaint HERE.