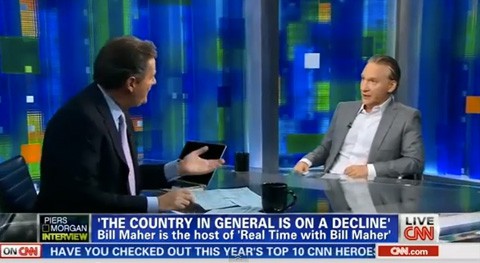 Obamacare supporters Bill Maher and Piers Morgan lamented the roll-out of Obamacare last night,  discussing a report that emerged yesterday about millions of Americans getting cancellation letters for their health insurance under Obamacare. Maher also ripped Republicans for continuing to try to undo the law.
Says Maher: "I don't think Obama should have lied to people."
Added Morgan: "When I see the president of the United States repeatedly — including at the State of the Union — assuring the American people, look, you want to keep your doctor, you want to keep your plan, you will. And he said it again, and again, and again, now we know the senior members in his very administration knew all along, for three years, that probably at least 50% of all the people that applied, that would not apply to them, they would have to change their plan, that is a bare faced lie. And I speak as somebody that is supporting of Obamacare."
Watch, AFTER THE JUMP…
(via buzzfeed)