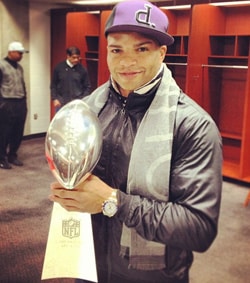 In an open letter posted on Fox Sports today, Brendon Ayanbadejo offered to help the University of Mississippi's educational outreach on LGBT inclusivity following reports earlier this week of a mass heckling of a student production of 'The Laramie Project,' the Moises Kaufman play about the Matthew Shepard murder. Approximately 20 Ole Miss football players were involved in the heckling incident, with reports of some calling cast members 'fags.'
Says Ayanbadejo, in part:
The alleged behavior of Ole Miss football players along with freshmen from other sports and students attending the play to fulfill some underclassmen requirements is abhorrent and unacceptable.
I blame the administration as much as I blame the athletes. This is a graphic play and a graphic production. People need to have an idea of what they are getting themselves into.
In no way do I condone this behavior but you need to have a conversation with these athletes when they set foot on any campus as to what is expected from them as representatives of the university.
This is why the work of Athlete Ally and groups like the Gay Straight Alliance, which serves as a bridge for gay and straight students in high school to form an alliance of inclusivity and nondiscriminatory behavior is so important.
Unfortunately everyone was not raised with the morality and values to treat all people equally.
A representative of the Ole Miss athletes allegedly apologized – after being prompted by a member of the school's academic staff – but many didn't quite understand what they were apologizing for. […]
So before Ole Miss is quick to hand down punishment I would like to see them take a more holistic and proactive approach in educating students and student athletes alike. All you have to do is reach out and I will be happy to discuss how I can help you take the next step."
You can read the full letter HERE. 
(photo via Instagram)