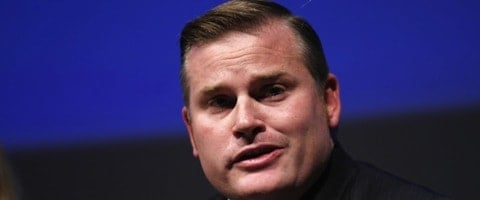 So strong is NOM President Brian Brown's hatred of homosexuals that even the threat of felony litigation for violation of the Logan Act is not enough to keep him from spreading anti-gay animus in Russia. This time along with Scott Lively, the American missionary bigot behind Uganda's "Kill the Gays" bill who is scheduled to stand trial for crimes against humanity, Brown took a return trip to Moscow this past week for reasons unspecified, but were most likely to attend the planning meeting of the World Congress of Families.
The World Congress of Families is an anti-gay group that has been a supporter of Russia's anti-gay laws and contains the usual list of right-wing loony bigots among their sponsors, including Bryan Fischer's American Family Association, Peter LaBarbera's Americans for Truth About Homosexuality, Concerned Women of America, and Tony Perkins' Family Research Council. Birds of a feather, and all that.
Of course it is entirely possible that Bryan Brown went to Moscow for completely different reasons utterly unrelated to the planning meeting or Russia's anti-gay laws. It's also entirely possible that President Putin is a closet drag queen who is taking extreme measures to ensure that she reigns supreme. And equally as likely.