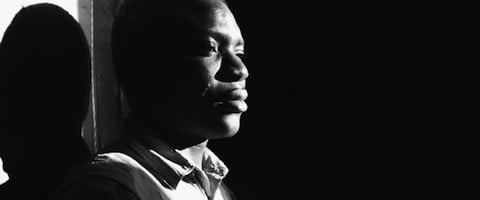 Last year The Washington Post ran an article about the International AIDS Conference at the Walter E. Washington Convention Center in D.C., and how it provided some much-needed relief for African attendees who had to deal with rampant persecution in their home countries. One of the men they interviewed, Michael Ighodaro, is a gay rights activist in his home country of Nigeria, but due to the extremely hostile environment has to work in secret. Unfortunately, the article outed him to his countrymen. His home and possessions were destroyed, he was brutally beaten by a random group of bigots, and was forced to flee to New York to save his life.
Ighodaro's shattered hand that required surgery to fix was a lighter punishment than what some homosexuals suffer in Nigeria. According to Reverend Pat Bumgardner, senior pastor of New York's LGBT-friendly Metropolitan Community Church, a common tactic is to assault and cut off the noses of suspected homosexuals so that they can be easily identified. Then, of course, there are the ones who are flat-out killed for the crime of being gay. The driving force behind this hatred is a combination of extreme poverty and western evangelism, which evidently subscribes to the philosophy of "Who Would Jesus Maim?"
Ighodaro has been in the U.S. for a year now and is settling in to a better life. His green card application is being processed and he plans to attend Columbia University in the coming months.