Clerks in at least 7 of Michigan's 83 counties are ready to begin issuing marriage licenses to gay couples on Wednesday should U.S. District Court Judge Milton Friedman strikes down the state's ban, MLive reports: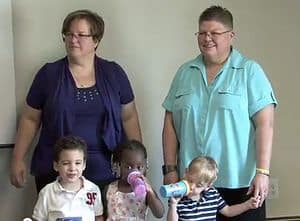 Ingham County Clerk Barb Byrum, a Democrat who previously served in the state House, is among a handful of elected officials preparing for that possibility. She has plans to personally perform a same-sex marriage this week if the ban is lifted.
"We're prepared to follow the law like we always have, and you know, quite frankly, I look forward to the time when all couples, regardless of whether they're same-sex or not, are able to marry," Byrum said, noting that couples can only apply in a county where one of them lives…
…Clerks in Bay, Clare, Ingham, Midland, Oakland, Tuscola and Washtenaw counties indicated that they are ready to begin issuing licenses immediately after a ruling. Many have not yet responded, and others said they would wait for a directive from the state.
Click HERE for background on the case.