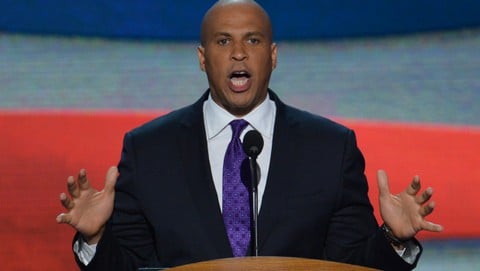 Several New Jersey towns have begun processing marriage license requests from gay couples in anticipation that marriages will begin next week pursuant to an order from Judge Mary Jacobson, CBS News reports:
Asbury Park officials confirm they are processing license requests from gay couples in compliance with Judge Mary Jacobson's order. New Jersey has a 72-hour waiting period before ceremonies can be performed.  Barring a stay of that order, licenses will be handed out there on Monday.
Collingswood also began accepting same-sex marriage applicationswith an eye to start issuing licenses on Monday, when Judge Jacobson's order takes effect.
Jersey City and Red Bank are accepting them as well: "I directed the clerk to take applications. It's the right thing to do," said Red Bank Mayor Pasquale "Pat" Menna. "We received inquiries from residents and nonresidents. It's not fair to keep them in suspense."
Newark mayor and Senator-elect Cory Booker is planning on marrying couples in the NJ capitol at 12:01 am on Monday, Buzzfeed reports:
Multiple advocates in New Jersey confirmed that the Newark mayor who just won election to the Senate on Wednesday plans to conduct weddings in the first floor rotunda of Newark City Hall after the clock strikes midnight.
The only remaining question is whether the New Jersey Supreme Court will issue an order before then putting marriage equality on hold while it considers an appeal of the trial-court decision that led to Booker's plans.
According to information provided to BuzzFeed, wedding plans are moving forward at this time, with at least 10 couples and their families expected to attend the early Monday morning event.
Meanwhile, The Trentonian reports that someone named "Vinnie" is trying to put a stop to these marriage applications being handed out:
Barring a Supreme Court decision to order a stay on the matter, same-sex couples are permitted be to married in New Jersey on Monday.
But in an email sent by the state Bureau of Vital Statistics at 3:08 p.m. Thursday, "Vinnie" — with no title or last name — ordered municipalities to not accept applications for same-sex marriages "until you hear from this office that we have the authority to do so."
A spokesperson for the state's health department — which oversees the Bureau of Vital Staistics — couldn't immediately provide the identity of "Vinnie."