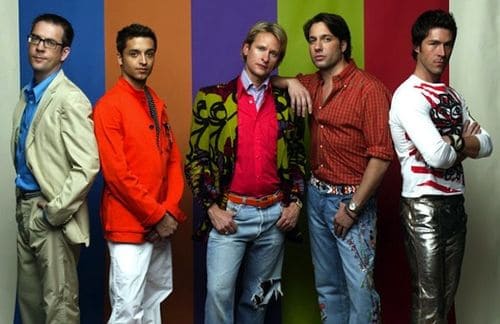 When Queer Eye For the Straight Guy premiered in July of 2003, cell phones still had buttons, the Massachusetts Supreme Judicial Court was still months away from becoming the first state to recognize same-sex marriage and no Kardashians had their own TV show.
Queer Eye was not only a surprise hit, but it also became a cultural phenomenon. After five seasons, Carson Kressley, Jai Rodriguez, Ted Allen, Kyan Douglas and Thom Filicia were household names. The original Fab Five will reunite on Bravo Sunday at 9 p.m. Eastern on a special Queer Eye Reunion: 10 Years Later, hosted by Andy Cohen.
A decade later, the reality program's societal impact is still up for some debate. Some applaud the show's ability to expose a broader audience to gay people, while others criticize its reliance on stereotypes.
Whatever Queer Eye's cultural legacy may be, it's left an indelible mark on the television landscape, paving the way for some of the shows we love today.
Check out a few of the shows influenced by Queer Eye For the Straight Guy, AFTER THE JUMP …
Tabatha Takes Over
To be fair, almost all of Bravo's recent shows owe some degree of gratitude to Queer Eye for transforming the network from a high-brow arts channel to the more gay-friendly, pop-culture driven brand we know today. Tabatha in particular feels like the next iteration of the Queer Eye model — an LGBT guru delivers expertise (and witticisms) to those in desperate need of an intervention.
 
Hello Ross
Part of the appeal of Queer Eye was the likability of the Fab Five. Yes, they could be shrill, but they were ultimately sincere and good-natured. TV personality Ross Mathews has built his image with similar sweetness and established himself as a present-day pop-culture maven. One could see Mathews taking Jai Rodriguez's spot, if Queer Eye was recreated today.
 
The Chew
Even though What Not To Wear predated Queer Eye, much less fuss was centered around host Clinton Kelly's sexuality and it never rose to the same level of prominence. Kelly's current food-centric talk show, The Chew, has grown at least partially from post-Queer Eye Bravo's hit Top Chef (former Top Chef contestant Carla Hall is also a co-host). Not to mention the effect of Ted Allen introducing fine food and wine to straight guys (and audiences) everywhere.
 
The Fabulous Beekman Boys
Just as Queer Eye was a big part of the sweeping "metrosexual" trend of the early-'00s, husbands Josh Kilmer-Purcell and Brent Ridge are reflecting the kind of rustic-revival playing out across Pinterest pictures of mason jars, handmade goods on Etsy and musical acts like Mumford & Sons and the Lumineers. In addition to chronicling the pair's transition from city boys to farm living, it's hard not to spot a little bit of Queer Eye in some of Beekman Boys' supplemental how-to videos.
RuPauls' Drag U
At the end of the day, Queer Eye's makeovers were never just about the clothes and the hair; they were about helping people change on the inside. On Drag U, where the outfits and makeup are taken to outrageous extremes, the experience transcends the typical makeover to place an even bigger emphasis on the overall transformation.
What other shows do you think were influenced by Queer Eye For the Straight Guy?