Newark mayor and LGBT ally Cory Booker has won the special election to fill Senator Frank Lautenberg's seat in the U.S. Senate, defeating Republican Steve Lonegan, Reuters reports: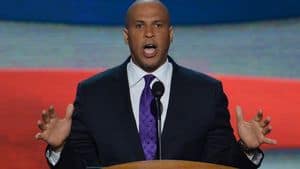 Booker, who had been heavily favored in polls, defeated conservative Republican Steve Lonegan, a former small-town mayor, according to tallies published online by The New York Times, Politico and the Star-Ledger newspaper.
The tallies showed Booker with an 11 point lead over Lonegan with more than 90 percent of the votes counted.
Booker, 44, spoke to cheering supporters in Newark where he thanked them for turning out to vote against the backdrop of the 16-day government shutdown and partisan battling in Washington.
"It would have been easy to listen to this frustrating negativity and stay home today. But here in New Jersey, more than a million people rejected cynicism and came out on a Wednesday, in the middle of October, three weeks before we have another election, to fight the cynicism," he said.
"You didn't just vote, you believed that your vote and choice mattered," he said.
Watch Rachel Maddow announce the news, AFTER THE JUMP…