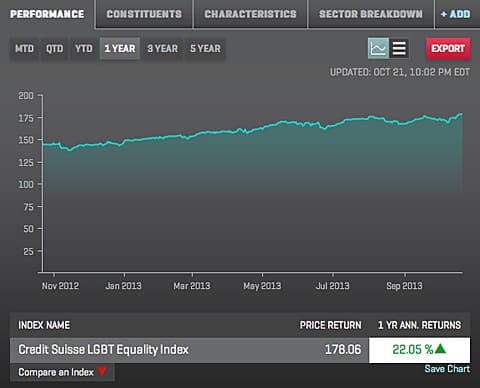 Credit Suisse yesterday launched an LGBT Equality Index,  the first index to track the equity performance of companies with LGBT (Lesbian, Gay, Bisexual and Transgender) friendly policies, as well as an LGBT Equality Portfolio available to its banking clients.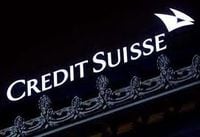 The WSJ reports, via press release:
The Credit Suisse LGBT Equality Index(TM) is a capitalization-weighted equity index that measures the performance of US companies recognized for supporting and promoting equality for members of the LGBT community. Index inclusion requires a score of 80 or above on the Human Rights Campaign's Corporate Equality Index (CEI.) The HRC Corporate Equality Index is the national benchmark for corporate policies and practices related to LGBT employees. The initial concept for the index is the result of conversations between Credit Suisse and LGBT Capital, a thought leader in the field of LGBT-related socially responsible investment activity.
Credit Suisse is also launching today an associated investable portfolio, the Credit Suisse LGBT Equality Portfolio, Powered by HOLT(R). HOLT is a Credit Suisse proprietary valuation framework with a disciplined cash flow approach to company analysis and stock selection. This new Portfolio is available exclusively to Credit Suisse Private Banking USA clients. It is currently the only investable instrument associated with the index and contains blue chip companies with progressive LGBT policy and strong capital appreciation potential.
Ashley Kindergan at the Financialist explains how was it designed:
"We believe that companies that engage in and have good top-level
policies regarding LGBT employees should see a positive bottom-line
economic impact as a result," said Eric Berger, a Relationship Manager
for Credit Suisse's Private Banking USA business and a member of the
firm's LGBT Network, which played a critical role in the product's
development over the course of the last two years…
To design the product, Nicole Douillet, a trader at Credit Suisse who is also the co-chair of the LGBT Network, first put together a market capitalization-weighted index of LGBT-friendly companies based on the HRC's corporate ranking. In its current iteration, the non-tradable Credit Suisse LGBT Equality Index consists of about 200 companies with a score of 80 or above on the HRC's Corporate Equality scorecard. All but a few are in the S&P 500.
The next step was to create an investable, optimized instrument. To that end, Credit Suisse's HOLT team—which evaluates individual companies for clients ranging from hedge funds to wealth managers—selected from a list of LGBT-friendly companies with a score of 80 or above the stocks that they believe are good investment ideas based on more traditional measures.
More at The Financialist….