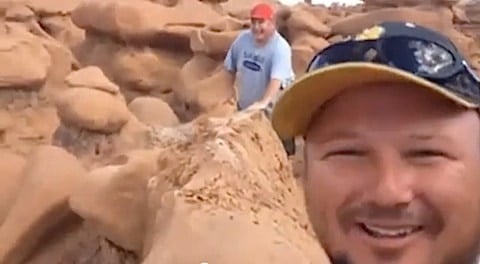 The three nitwits who toppled an ancient rock formation in Utah's Goblin Valley State Park and posted it on the internet for all to see have been booted by the Boy Scouts, the Salt Lake Tribune reports:
David Hall and Glenn Taylor no longer will serve as leaders in the Utah National Parks Council, according to a news release from the Boy Scouts of America. The decision came from the council leadership, which referred to the men's behavior as "reprehensible" and a violation of the Scout principle of "leave no trace." … The decision to remove the men, Gailey added, came over the weekend after conversations with park leaders, the attorney general's office and the LDS Church, which sponsors the troop.
In related news, the idiot who actually pushed the rock over is involved in a lawsuit claiming disability:
Taylor is now facing additional scrutiny after it was revealed that he filed a suit claiming he endured "great pain and suffering, disability, impairment, loss of life" stemming from a 2009 car accident, according to ABC News affiliate KTVX-TV in Salt Lake City, Utah. According to KTVX, Taylor said in the documents he has incurred an estimated $5,000 in medical related expenses.
Alan Macdonald, who is being sued by Taylor because it was his daughter who hit Taylor's car, told KTVX that he was "highly offended" by Taylor's actions.
"Somebody with a bad back who is disabled who can't enjoy life to me doesn't step up and push a rock right off its base," Macdonald said.