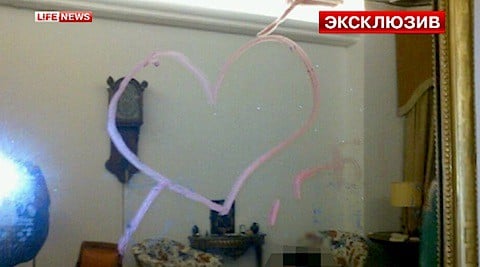 Dutch diplomat Onno Elderenbosch was tied up and beaten by two men who entered his apartment in Moscow Tuesday night, and slightly injured, according to Dutch Foreign Minister Frans Timmermans, the AP reports.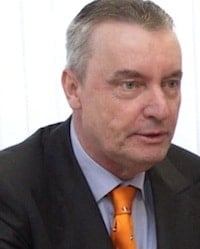 I've taken a screengrab of a LifeNews broadcast which reportedly shows that the attackers left a pink heart in lipstick with the Russian letters 'LGBT' under it. The photo was said to be taken in Elderenbosch's apartment, which is also shown to have been rifled through.
The Dutch have been outspoken in their criticism of Russia's anti-gay policies. In April, the Amsterdam mayor expressed his opposition by declining to meet with Russian President Vladimir Putin during his visit to the Netherlands. And in August, Dutch gay groups held a protest ahead of a major concert by Russian state musicians and dancers…
…The top Dutch gay rights organization, COC, condemned the attack.
"It is terrible for the person involved and appears to be another expression of the swiftly deteriorating climate for LGBTs in Russia," COC chairperson Tanja Ineke said in a statement. She urged the king to go ahead with his visit to Russia and to raise the issue of human and gay rights with Putin.