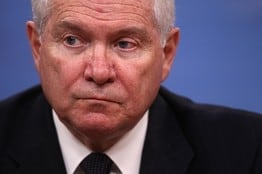 Robert Gates, former Secretary of Defense under Presidents George W. Bush and Barack Obama, will be the next President of the Boys Scouts of America, replacing Wayne Perry, Imperial Valley News reports. Gates' role in dismantling the military's "Don't Ask, Don't Tell" policy that discriminated against openly gay service-members is being perceived by some as valuable experience to bring to an organization that has struggled with whether and how to accept openly gay members. Earlier this year, the Boy Scouts repealed their ban on openly gay scouts but not on openly gay scout leaders. Some are hopeful that will change under Gates' leadership:
Gay-rights groups praised Gates' appointment and called on him to
push BSA a step further and allow gay leaders and adult volunteers.
"Millions of people and national corporations
have called on the Boy Scouts to put an end to discrimination once and
for all," GLAAD spokesman Wilson Cruz said. "We urge Dr. Gates to
continue his work to ensure all people are treated equally, no matter
who they are and no matter what uniform they wear."
Gates, a former Eagle Scout, has previously spoken of what he sees to be the values of scouting in today's society:
"At a time when many American young people are
turning into couch potatoes, and too often much worse, Scouting
continues to challenge boys and young men, preparing you for
leadership," Gates said, according to a transcript of his remarks posted
by the Department of Defense.