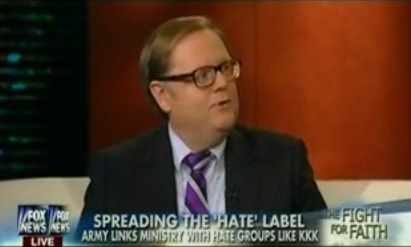 On Fox & Friends on Tuesday, reporter Todd Starnes critiqued a military training session on domestic hate groups which included the American Family Association (AFA) alongside the KKK, neo-Nazis, and the Nation of Islam.
Starnes referred to the training as "anti-Christian activity" and claimed it represented increasingly hostile military environment for Christian service members. The other reporters, along with Starnes, said the AFA's anti-gay marriage beliefs were the sole reason for its inclusion in the hate group training.
South Florida Gay News points out the reality:
The Southern Poverty Law Center (SPLC) designated AFA as a hate group for promoting anti-gay attacks that harm individuals and threaten human rights. 
…
Bryan Fischer, the American Family Association's unofficial spokesman and the group's director of issues analysis, has previously called on the government to prohibit mosques from being built anywhere in the United States, suggested "the most compassionate thing" America can do is deport all Muslims, and wrote that "gay sex is a form of domestic terrorism."
The American Family Association has also enthusiastically endorsed Russian President Vladimir Putin's draconian anti-gay laws, with Fischer stating that the country isn't being homophobic but "homorealistic."
The AFA also touts "reparative therapy" for gay people, believes in punishment for homosexual sex, and has linked homosexuality as a cause of the Holocaust.
Watch the maddening clip, AFTER THE JUMP…