A French court on Tuesday ruled against the nation's ban on binational marriages involving 11 countries, AFP reports: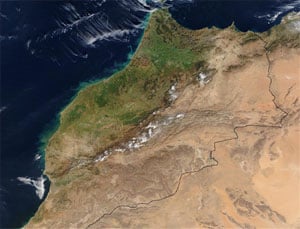 France legalised same-sex marriage in May after months of intense and sometimes violent protests, and the couple — Dominique and Mohammed — immediately got to work planning their official union for September in the town of Jacob-Bellecombette in the Alps.
But just two days before the wedding, prosecutors in the nearby city of Chambery ruled it could not go ahead.
They cited a government circular stating that nationals from 11 countries, including Morocco (inset), Poland and Laos, were not allowed to marry people of the same sex in France.
All 11 ban gay marriage and had signed agreements with France whereby a citizens in a binational couple must obey his or her own nation's marriage law.
A Chambery court ruled against that agreement this week:
That court pointed to a clause in the agreement with Morocco that exempts France from having to comply with Morocco's national marriage laws if they are "obviously incompatible with public order."
An appeal lodged by prosecutors was rejected on Tuesday, a decision that could create a precedent and allow gay citizens of the 11 countries concerned to tie the knot in France.