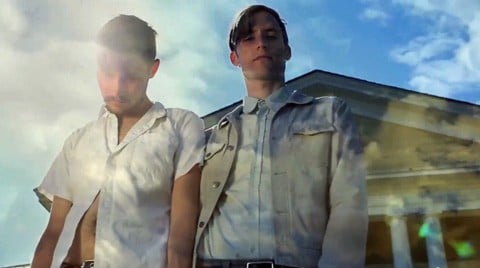 Filmmaker Alex Berry, who is behind the web series Six Months for Six Weeks which Towleroad featured recently, directed a new video for the Seattle-based 'dream pop' band Night Cadet called "Seaside", a clip with a romantic, albeit macabre theme.
Check it out, AFTER THE JUMP…
The band's members were recently asked by the HuffPost's Logan Lynn to describe the video:
Seth Garrison:  It's a pretty simple story. Man meets dead boy on beach. Man falls in love with dead boy. Man takes dead boy home and dresses him up. Man and dead boy live happily ever after. The point being that love is complicated and we don't always choose who we fall for.
Barrett Anspach: Think Weekend at Bernie's, minus the hilarity and hijinks.
Garrett Vance:  To me it's about escapism and trying to save or nurture back to form something that you just can't. With a dash of Twin Peaks and Six Feet Under.
Spencer Bray:  It's all supposed to be a little silly and over-the-top dramatic but still pretty, but I mean, mostly I got to dance around on a boat, really stoned, while drinking champagne, and take some awesome stills of gorgeous people in a field. That's all you need in life, right?