Openly gay United States Army Ranger Ken Yasger took to YouTube last week to ask Katy Perry to be his date for the Ranger Ball. Yasger is not the first to ask Perry to be his plus one for a military ball. As The Daily Mail points out, Perry was asked out to the Navy Ball in 2012 by fighter pilot Lieutenant Clayton Heyward. However, Yasger, who is a devout Katy Perry fan, made a personal appeal to Perry, discussing how much her music has meant to him as he serves abroad and as the first openly gay ranger in his unit. The International Business Times reports: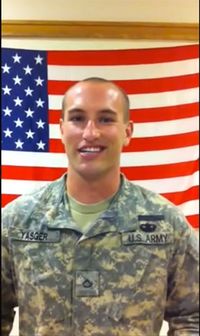 According to Yasger, Perry's three studio albums and film "Part of Me" have been his solace while serving overseas, telling the singer that her music speaks to him in a way no other artists does. "Katy you're inspiration to me in a lot of ways and this is what this video is for. This is the reason I'm inviting you and no other celebrity," he said, adding his struggles with being an openly gay ranger have been nullified through listening to her singles, specifically the 2012 hit song, "Wide Awake." "Your music really helped me get through it. I had family, friends, they helped me also but I'd wake up in the morning and I'd been feeling really down… I'd listen to it while I got ready in the morning. No matter how down I felt I would listen to that song and It would really help me get started for the day," he said.
Yasger follows in the footsteps of many other members of the armed forces who have used YouTube to ask celebrities to attend military balls as their dates. In 2011 Cpl. Kelsey De Santis successfully persuaded Justin Timberlake to attend the Marine Corps Ball with her. That same year Mila Kunis attended the Marine Corps Ball as the date of Sgt. Scott Moore. Both celebrities were wooed by their respective dates' online appeals.
Don't miss Yasger's video for 'Katy My Lady' AFTER THE JUMP…