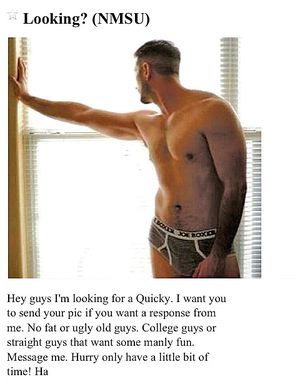 The Santa Fe New Mexican reports that an email sent Monday showing Ray Sandoval, campaign manager for Santa Fe Mayoral candidate Roman "Tiger" Abeyta, in his underwear in a Craigslist ad soliciting sex, is part of an attempt to sabotage Sandoval and Abeyta's campaign:
The email was sent by a someone named "Sean Gallegos." The New Mexican requested comment via email but did not receive a response.
The email features a Craigslist ad with a picture of Sandoval in Joe Boxer underwear soliciting sex from men. The ad lists New Mexico State University in Las Cruces as the location.
Sandoval says he learned of the email after it was sent to the board of the Kiwanis Club, where he is an active member:
"I've seen them attacking the candidate. But now you're going to start attacking the campaign manager? This is an absolute new low," he said […]
"I think what the intent here is to go to the Kiwanis board and put pressure on me to get out of this race, to stop helping Roman, because then my board members are going to come back and say, 'Look, Kiwanis does all these good things for kids. We can't have somebody out there who is soliciting for sex on this sex site, and you need to now step down from Roman's campaign.' I think that's exactly what the intention was," Sandoval said.
According to Sandoval, the picture was originally posted to Facebook two years ago to show progress as he and his ex-boyfriend tried a new work-out routine. Many of Abeyta's opponents in the mayoral race have denounced the attempt to smear Sandoval, publicly disavowing any involvement in the sabotage or the subsequent email.
(image via The Santa Fe New Mexican)