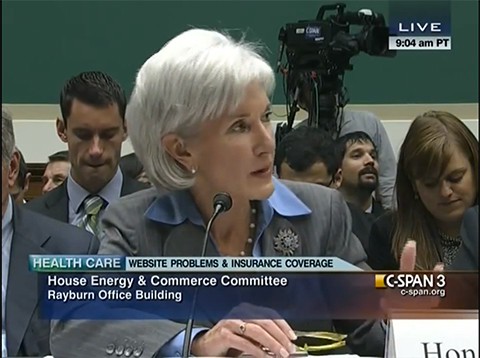 Secretary of Health and Human Services Kathleen Sebelius faced a thorough grilling from the House Energy and Commerce Committee over the bumpy rollout of The Affordable Care Act (ACA) and the online federal health-care exchange. Despite Sebelius's repeated assertion that she was ultimately responsible for any failures with the ACA, Republican Representative Greg Harper (R-MI) pushed Sebelius, trying to get her to pin the responsibility on President Obama, Mediaite reports: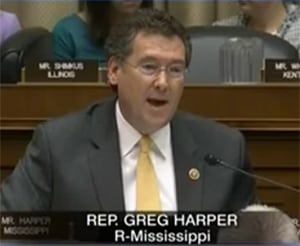 "I appreciate you accepting responsibility for these initial rollout failures that we've had," Harper began. "But who is ultimately responsible? It is the president, correct?"
"No, sir," Sebelius said. "We are responsible for the rollout…He's the president of the United States. I have given him regular reports. I am responsible for the implementation of the Affordable Care Act. That's what he asked me to do."
"I think it's great that you're a team player and taking responsibility," Harper said after several similar attempts, and then repeated: "It is the president's ultimate responsibility, correct?"
"You clearly—whatever," Sebelius said. "Yes, he is the president. He is responsible for government programs."
The comment quickly caught fire on Twitter, with #whatever beginning to trend almost immediately after Sebelius made her remarks.
Mediaite also points out that Sebelius drew the ire of Colorodan congressman Cory Gardner (R) who, referring to his own family losing their health coverage, demanded,  "Why aren't you losing your health insurance? Why aren't you in the exchange?":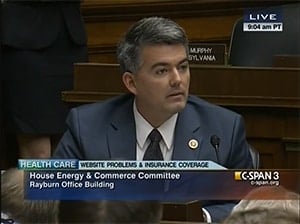 "When Sebelius explained that she's part of the federal employees benefit plan, Gardner pushed harder: "You're literally in charge of this law. Should you be any different than any of the other Americans out there who are losing their insurance today?"
After some more pressing, Sebelius told the congressman: "I am not eligible for the exchange."
A baffled Gardner replied: "I went into the exchange. You could decide to drop your coverage of your employer. You have the choice."
"That is not true, sir," the HHS secretary responded. "If I have affordable coverage in my workplace, I am not eligible to go into the workplace."
"With all due respect," Gardner fired back, "I would encourage you to be just like the American people and enter the exchange and agree to find a way to do that." Applause broke out in the gallery among several members.
"It's illegal," the administration official responded.
Following this line of questioning, Sebelius was caught saying, "Don't do this to me" to a colleague at the table with her during a brief break. It appears that Secretary Sebelius was not aware the comment was being picked up by her mic and it is not clear what specifically she was referencing, as Business Insider notes.
Watch videos of some of the more memorable exchanges from today's hearings
AFTER THE JUMP…