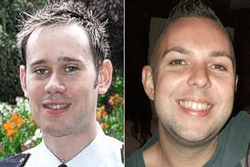 In what is being described as a "bizarre, tragic accident," an off-duty police constable and his TV engineer partner were both killed over the weekend after plunging 20 feet into a construction site. The London Evening Standard has the story:
An official source confirmed to the Standard that the men (Gavin Brewer-left and Stuart Meads-right) had leaned on boards round the building site on the corner of Hampstead Road and Netley Street. The boards then gave way.
The men fell into the hole – believed to be an uncovered roof light for a basement flat – and suffered fatal injuries. London Ambulance Service said both were pronounced dead at the scene.
Today their families both described the deaths at about 2:30 last Saturday as a "bizarre, tragic accident". 
The Health and Safety Executive is investigating and the Met Police, which said officers were called to reports of two men arguing, is treating the deaths as "unexplained". Mr. Meads's father Stephen, of Egham in Surrey, told the Standard: "Stuart was a wonderful son and is a huge loss to our family. We are in shock. It is a very difficult time."
Stephen Baker, a friend of Mr. Meads, said the couple had been drinking Friday night but stressed that there was no question of attributing blame to them. He added:
"They were a wonderful couple. They clearly cared for each other a great deal. They had just come back from a tour of Europe. They were very happy and in love, by all accounts."
Post-mortem examinations were scheduled to take place at noon today and inquests to open on Friday or Monday.