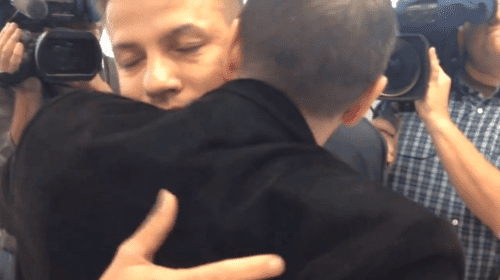 On Wednesday morning in Charlotte, North Carolina, three couples were denied marriage licenses by the Mecklenburg Country Register of Deeds in accordance with the same-sex marriage ban written into the state constitution in 2012. The couples were taking part in a peaceful protest arranged by the Campaign for Southern Equality in order to bring awareness to the marriage ban. A similar test of the law occurred just last week in Henderson County, North Carolina.
Register of Deeds J. David Granberry met the couples and broke the bad news, but later offered words of support.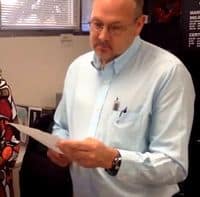 QNotes reports:
Granberry said he and his staff attempted to remain somber throughout the protest and do their jobs. He also said his staff wanted to respect the couples' rights.
"[We] try to be respectful and let everybody say their piece, and that's mostly what I think it's about, to give them an opportunity to be seen and to be heard," he said. "And, we can't particularly do something because right now it's against the statutes and the constitution for the state, but we can definitely let people express themselves and exercise their free speech and, certainly, they have the right to come down and ask for a marriage license."
Granberry also noted that Mecklenburg County residents voted against last year's anti-LGBT state constitutional amendment. "I'm hoping that [the protest] will start changing people's minds," he said.
The protest was an emotional one for all involved. Scott Bishop and Ron Sperry, the first couple to attempt to retrieve their license, got teary as Sperry recited an eloquent speech to his partner:
"I don't think it's hard to imagine that every happily married couple remembers the day they walked up to this counter or a counter like this one to apply for their marriage license," he said. "I bet that they all remember how they felt and the butterflies that they felt at the time. I want you to know that I feel butterflies, too, and not for all the reasons you would think, but because I get to stand here in front of anyone who will listen and tell them that I want to be with you for the rest of my life. I love you very much."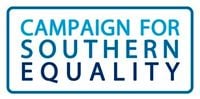 The other couples were Reverends Robin Tanner and Ann Marie Alderman, and Scott Lindsley and Joey Hewell.
The couples said they deserve to have their relationships recognized in their home states, just as their straight friends' relationships are recognized. In 2011, Tanner participated in marrying several Charlotte gay couples in Washington, D.C., where same-sex marriages are recognized. Her partner, Alderman, said North Carolina should grant them the same rights.
"We live here," Alderman said. "It should be here, where we live. We feel really strongly about that."
Watch a video of the protest and Ron Sperry's emotional speech, AFTER THE JUMP…