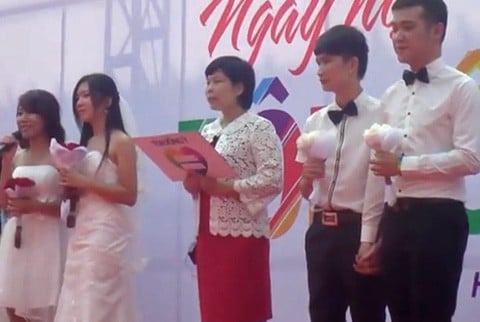 Approximately 300 people came out to the center of Hanoi to show support for same-sex marriage on Sunday, Voice of America reports. The supporters also witnessed a "staged" wedding ceremony for two couples (one gay, one lesbian) who, dressed as grooms and brides respectively, exchanged rings and threw bouquets to the crowd. The event was part of the "Toi Dong Y" festival, (translated, it means "I do," or "I agree") put on by LGBT groups from across the country.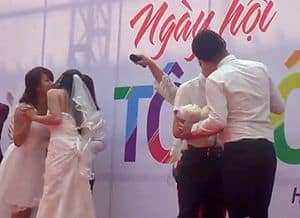 Watch videos, AFTER THE JUMP…
The rally comes as the Vietnamese Parliament is set to begin debate next month on legalizing same-sex marriage. Last year the Vietnamese government announced it would consider granting same-sex couples the right to marry as part of its overhaul of the country's marriage laws. Though the current draft of the proposed legislation does not explicitly legalize same-sex marriage, it does remove a provision that makes it specifically illegal and also provides protections for same-sex couples living together.
Many activists are hopeful that Vietnam will soon legalize gay marriage. Said Le Quang Binh, director of the Institute for Studies of Society, Economy and Environment (iSEE),
"I believe in people and I think that when everybody speaks out, everyone has to listen whoever you are. So that's why we do it this way. We mobilize public opinion, LGBT, students, young people so when people speak their opinion, politicians will have to listen," Binh said. "And I believe that politicians are also human beings. They need time to understand."
Vietnam stands out from many other countries in the region for its attitudes on homosexuality. While in many neighboring countries, "simply being gay can result in jail sentences or whippings with a rattan cane," Vietnam has been more accepting. As for the reasoning behind this, some point to the country's political landscape and the role of the media: "Vietnam's state-run media, unable to write about politically sensitive topics or openly criticize the one-party government, have embraced the chance to explore gay issues."
You can check out Toi Dong Y's Facebook page HERE.
(Below photo via Facebook)