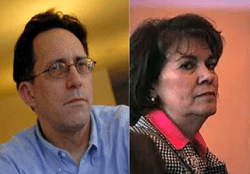 Brian Camenker (left) of the hate group Mass Resistance had a chat with conservative-wingnut radio host Linda Harvey (right) over the weekend to discuss how gay rights activists are distorting the reported rise in anti-gay violence in Russia and are attempting to "smuggle pro-LGBT propaganda" into the country.
Right Wing Watch reports that Harvey defended Russia's new anti-gay laws and insisted that no "logical" person would believe such laws are related to the rise in homophobic violence, doubting that such violence is even occurring. And even if such anti-gay violence is indeed taking place, Camenker asserted that it's only a natural reaction to seeing two dudes kissing in public:
"…if you're going to do something that most of the population considers bad or immoral or disgusting in public, you're going to get a certain reaction. I think that they push that as far as they can and sometimes you just can't do it."
Listen, AFTER THE JUMP…