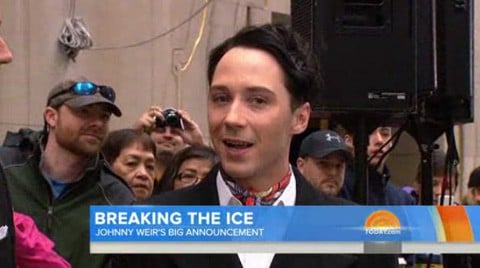 Out gay figure skater Johnny Weir announced on the Today show this morning that he's retiring from the sport and taking a job for NBC as an Olympic correspondent at the Sochi Games.
Said Weir about going to anti-gay Russia: "While this law is a terrible thing that you can't be gay publicly in Russia, I plan to be there in full support of our brothers and sisters there and not be afraid. If I get arrested, I get arrested. If not, not, great, but our presence is needed. For all the Olympians that worked so hard, a boycott is the worst thing you can do to these young people."
Watch, AFTER THE JUMP…
Weir  has described himself as a "true patriot and spokesman for their country" in past interviews and in September wore a Russian military outfit to an interview with Keith Olbermann in which he argued against Russian boycotts.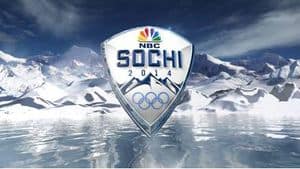 NBC has been facing heat since July over the anti-gay laws in Russia and the upcoming Olympics broadcast. They have said that they will wait to address the issue until the Games arrive.
"We'll address it at the time because it's still unfolding," said Lazarus, adding that the IOC has taken up the issue with the Russian government.  "The IOC has addressed it with the Russian government and has assured athletes, fans and media that there won't be any issues," he added. "Governments across the world have different laws. I don't know now it's going to [affect] us. If it is still their law and it is impacting any part of the Olympic Games we will make sure we are acknowledging it and recognizing it."
NBC also assured its gay employees of their safety in Sochi in a memo sent out in August.
MSNBC anchor Thomas Roberts was blasted with criticism last week for accepting a job in Russia as host of the Miss Universe pageant, a job that Bravo exec and host Andy Cohen turned down because of the country's anti-gay laws.
Roberts continues to be lambasted. Wrote Andrew Miller in the Huffington Post:
Thomas Roberts has become the next in a forming line of self-involved celebrities traveling to Russia to show Vladimir Putin how out and proud they are, or how supportive they are of their out-and-proud friends and relatives. Elton John, who will be concertizing in Moscow in December "to support Russian gays," is at the head of that queue. (Figure skater Johnny Weir, who was ready to get arrested at the Olympics in August, got, uh, cold feet in September and is staying home.)
Miller wrote his piece before Weir's announcement today.
Elton John recently announced he would play two concerts in Russia  because, "As a gay man, I can't leave those people on their own without going over there and supporting them. I don't know what's going to happen, but I've got to go."
He later said that he would not speak out against the government from the stage but preferred to meet with Russian leaders.
The real and unknown question remains — will any of these openly gay figures step up and make a difference (either with a major political statement or one that has a financial impact on LGBT members of society oppressed by the Putin regime) while they are in Russia, because it is really the only way any of them can justify making the trip.
Watch Weir's announcement, AFTER THE JUMP…
Visit NBCNews.com for breaking news, world news, and news about the economy
Weir added, in a statement:
"It is surreal writing about my career as if it had happened to someone else and to actually write the words, 'I am retiring from competitive figure skating.' I have cried my way through writing this entire column not because I am sad, or that I'll miss training or falling or being so nervous I thought my head would explode, or starving or the glory of victory or the agony of defeat, I cry because of the memories that have shaped my life. At twenty-nine, it is odd to explain to the average Joe that I am retiring. While my retirement surely isn't a shock to the skating world, I have been able to become a sort of face for my sport to people who rarely watch it, and I always quickly follow up the statement of 'I'm retiring from competition' with the truth that I will continue to skate and perform as long as my body will allow me and that I pass my presence in the competitive ranks on to some genius upstart, the youth that keeps the Olympics and sports alive,. While I am not old, part of being a champion is knowing when your time is up."