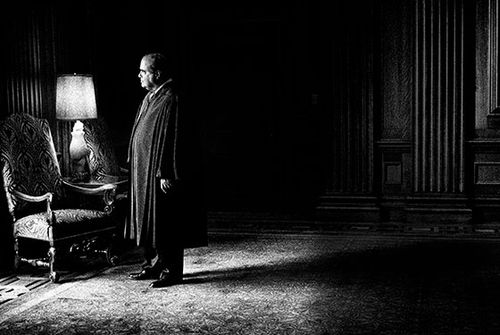 As we reported earlier this week, U.S. Supreme Court Justice Antonin Scalia sat down with New York Magazine's Jennifer Senior recently for a wide-ranging interview that was filled with, well, exactly what you'd expect from a man known for his fiery dissents and come-at-me public persona.
Aside from a somewhat baffling and wild exchange about the devil (he's out there, according to Scalia, and he's decided to take on a lower profile compared to those stories you've read about in the Bible as a tactic), the justice raised some eyebrows when he told Senior that he doesn't know anybody who's openly gay.  "I have friends that I know, or very much suspect, are homosexual," he admitted to her. "Everybody does."
Scalia–as his New York Magazine interview makes patently clear, is a devout Catholic.  But as LGBT rights advocate Richard Socarides, writing in the New Yorker, points out, that very faith is currently experiencing a self-evaluation of its approach towards sexual orientation in the highest echelons of its power structure:
The most breathtaking development since the Supreme Court's rulings on marriage rights, three and a half months ago, and the one with obvious global impact, was Pope Francis' basic acceptance of gay people within the context of Roman Catholic theology—"Who am I to judge?"—signaling a turning point of historic proportions. A Quinnipiac poll late last week showed that American Catholics approve of the Pope's new approach by a margin of sixty-eight per cent to twenty-three per cent. No doubt the dramatic progress we have seen in the U.S. impacted the Pope's thinking.

Shortly after the Pope said that it was time to end the church's focus on demonizing gay people (and its "obsession" with issues like abortion and contraception), Andrew Solomon, a longtime gay-rights advocate and the author of "Far From the Tree: Parents, Children, and the Search for Identity," told me in an e-mail, "The primary obstacle to gay rights—and indeed to various forms of human rights—is prejudice and bigotry that have been encoded in religion." Solomon believes, as many do, that "the Catholic Church was long set up as our most vigorous enemy, and it's to be hoped, very profoundly, that this change in position will filter down through the Catholic hierarchy and make religion once more the champion of loving-kindness, and no longer the instrument of oppression."

Even Scalia felt the effect, though he argued that it was a matter of emphasis, not doctrinal change: "He's the Vicar of Christ. He's the chief. I don't run down the pope."
Socarides points out the significance of such a shift–even if it is only in the tone of the church's position–and underscores its ability to have a lasting impact. Earlier this year, the association of American bishops wrote in an amicus brief filed with the Supreme Court that equal marriage rights for same-sex couples "would compromise the ability of states to accommodate religious and moral objections to homosexual conduct on the part of employers and individuals." As Socarides pithily puts it, "So much for that."
Senior's interview with Justice Scalia reveals a man happily inhabiting a island of conservative thought that seems far removed from today's reality–it's incredible that he could live in our nation's capital in 2013 and know zero gay people personally.  But Socarides's point is a good one: as Scalia stands firm, history–and the very institution responsible in many ways for his opinions about LGBT people–continues to shift around him.