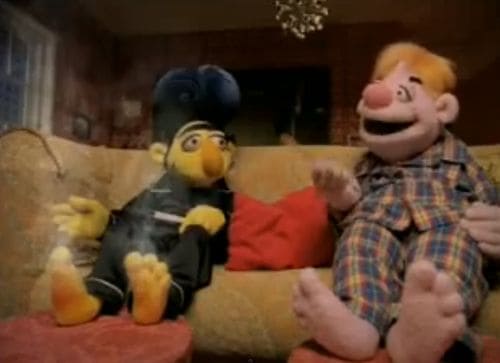 In a new commercial from Israel Electric Corp, the characters Sheka and Teka, a dynamic duo since 2002, introduced a baby into their ambiguous relationship. There have been rumors about the puppet pair's sexuality for over a decade, particularly given that other commercials have found the two sharing a bedroom (albeit in separate beds), lounging on the couch in PJ's, and paddling on a boat in the Dead Sea. The addition of a baby without a mother figure has rekindled the speculation surrouding Sheka and Teka's feelings for each other.
Ynet News reports:
The ads highlight a striking paradox of the Holy Land: Although religion holds great sway and there is no civil marriage, gays have gained a widespread acceptance that is increasingly noted around the world. Gay activists demand the ad characters, who have a close but ambiguous relationship, officially come out of the closet.
…
"This should weigh on the conscience of everyone who worked on this campaign, who will come home and ask themselves whether they would want to raise a child in a country where the electric company says: 'Hide, don't be proud,'" wrote Dvir Bar in nightlife magazine City Mouse.
Although the puppets are fictional characters and have little to do with reality, they do have a prominent pop cultural position from which they could spread a message of acceptance and honesty. However, they are representatives of a state which, while progressive in many regards (e.g. hospital visitation rights and open military service), still maintains a high degree of religious conservatism that limits civil marriages. All of these reports are dependent on whether or not Sheka and Teka could even be considered gay, though, and Israel Electric Corp. has made a statement refuting the claims.
"They represent the concerned Israeli, who is really worried about the air quality he is breathing and the environment he lives in. The baby that was born now represents the next generation," said Oren Helman, a senior vice president who is behind the commercial. "There are no hints or ambiguities here."