Jaymi Hensley (right), a member of the British foursome Union J, a boyband formed out of Britain's "X Factor" television series, will marry his fiance Olly Marmon in 2015.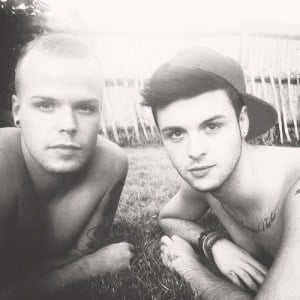 The two have been together for four years and have had a relatively long engagement: Jaymi popped the question in 2010. As Towleroad previously reported, Jaymi came out in 2012 during the "X Factor" competition. We will have to wait a little longer for the wedding bells, but these two make quite the cute couple!
The Mirror reports:
…if the former X Factor contestant needs any help on his big day he can rely on his bandmates to help him out.
However, the star, who has been dating his man Olly for four years and proposed to him in Rome in 2010, doesn't seem so sure. "They're not my best men – my brother's my best man," he laughed.
Congratulations to Jaymi, Olly, and the bandmates! It is lovely that they are all so supportive.
Union J are releasing their debut album on October 28th.
Check out the video for their single, "Beautiful Life," AFTER THE JUMP…