Despite the fact that his wife is petitioning him to do so, it appears unlikely that Senator John McCain (R-AZ) will be swayed to a'yes' vote on ENDA, the Huffington Post reports: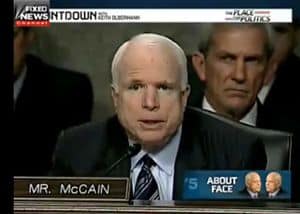 When asked what lingering concerns he had about backing ENDA, McCain replied, "Whether it imposes quotas, whether it has reverse discrimination, whether it has the kinds of provisions that really preserve equal rights for all citizens or, like for example, busing. Busing was done in the name of equality. Busing was a failure. Quotas were a failure. A lot of people thought they were solutions. They weren't. They bred problems."
Polls show that a majority of Americans support making it illegal to fire LGBT individuals, and young voters — including Republicans — are more supportive of gay rights than older voters.
Yet McCain insisted young people would share his concerns about the legislation.
"I think the young people know we do not need reverse discrimination, they don't believe in quotas and they don't believe in some of the programs we saw in the name of racial equality implemented in the past which turned out to be counterproductive," he said. "Ask people in Boston if busing turned out to be a good idea."