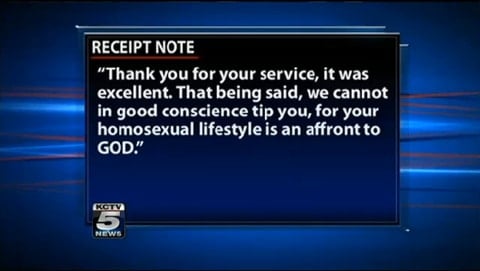 Restaurant patrons are rallying around an Overland Park, Kansas waiter who was refused a tip from a customer because he's gay, KCTV reports: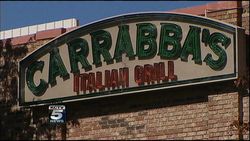 The man works at the Carrabba's Italian Grill near 107th Street and Metcalf Avenue. His mother also works as a hostess and she was very upset by what was written on the back of the check earlier this week after he waited on a couple.
"Thank you for your service, it was excellent. That being said, we cannot in good conscience tip you, for your homosexual lifestyle is an affront to GOD. Fags do not share in the wealth of GOD, and you will not share in ours," the customer wrote. "We hope you will see the tip your faggot choices made you lose out on, and plan accordingly. It is never too late for GOD's love, but none shall be spared for fags. May GOD have mercy on you."
Supporters of the waiter, whose story has been spreading on social media, have been pouring into Carrabba's to dine, and urging more customers to do the same. A campaign is underway to flood the restaurant with support on Friday, according to KCTV.
A local pastor, Marvin Baker, is among those supporting the waiter.
Dr. Marvin Baker and his partner had lunch at the restaurant on Thursday and asked to be seated in the server's section.
"I was angry. I said this is not Christian as I know it," Baker said.
Coincidentally enough, the hostess who led them to their seats was the server's proud mother.
"I said, 'We are here to meet your celebrity. The one who was mistreated.' She said, 'That's my son. Would you like a table or booth?' I said, 'Wherever he's serving,'" Baker explained.
Watch KCTV's report, AFTER THE JUMP…