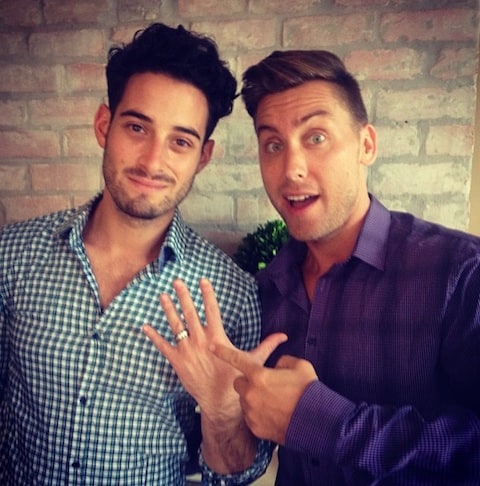 Lance Bass, who got engaged to boyfriend Michael Turchin this September, has opened up to ABC News about his plans for his upcoming nuptials. The former 'N Sync-er, SiriusXM radio host and newly minted director said he and Turchin plan to marry next fall. According to Bass, "I've always dreamt of having an outside wedding, or at least the reception outdoors, that's why [next] fall." Readers curious to know all about the wedding — plans for the ceremony, the reception, the guest list, etc. — may be pleased to know that the couple may share the experience with the entire world, broadcasting it on "a particular network":
"I love a party. It's going to be nice and big and over the top," he said. "The network offered us a big wedding special. Knowing myself in the 1980s growing up a gay kid in Mississippi, I would loved to have seen something on TV I could relate to and go, 'Oh, my gosh, I could do that!'"
As for the wedding itself, Bass said there's no tradition to follow and they plan on doing things "our own way."
"I don't know if we will even have groomsmen or bridesmaids," he added. "Since there's no wedding dress and half the excitement of a wedding is to see the wedding dress and what it looks like … we're wanting all of our guests to come completely over the top, high fashion like you're heading to the MET Ball or the Royal Wedding."
As for the couple's honeymoon (which will probably not be broadcast on television), Bass says, "There's lots of places we've wanted to go together, but have not found the time…One of those is Paris, one of my favorite places in the world. It would be nice to be able to experience that with Michael."