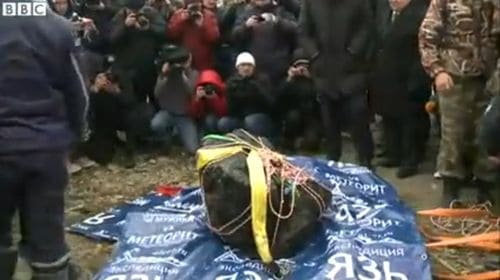 A large "meteorite" was pulled out of Russia's Lake Chebarkul on Wednesday. It is thought to be a chunk from the meteor shower in February which injured hundreds after windows were broken from the shockwaves produced. The rock, which has yet to be confirmed as a true meteorite, was five feet long and weighed in at 1,255 pounds. It broke the scale on which it was being weighed and split into three pieces.  
Business Insider reports:
Most fragments of the meteor — know as meteorites once they hit the ground — were believed to have sunk to the bottom of Lake Chebarkul, a frozen lake in the Chelyabinsky region. Recovery workers initially turned up empty-handed.
…
Scientists still need to verify that the hunk of rock came from space and was actually part of the Chelyabinsky meteor, although many features — like fractures and a crust that indicates it survived the heat of passing through Earth's atmosphere — suggest that it is a true meteorite. A small sample will be X-rayed to determine its mineral composition,according to RT.
Over 12 pieces of rock have been pulled from Lake Chebarkul since the meteor explosion, but only one-third of those turned out to be real meteorites, according to the AFP.
Check out video of the massive rock being pulled from its watery home, AFTER THE JUMP…